First it was Duchess Kate Middleton's nose; then it was her sister Pippa's derriere that captivated us. Now, our collective sites are set on the latest addition to the Royal Family, Prince Harry's fiancé Meghan Markle.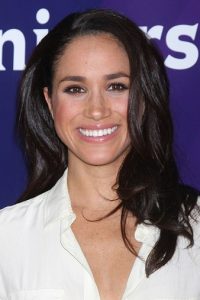 In what's being dubbed as the Meghan Markle effect, requests for plastic surgery to recreate Markle's nose started peaking several months back when she began making headlines for dating Prince Harry. These demands peaked when the duo recently announced their engagement.
And in truth, it's a great nose. It's perfectly imperfect with a straight-ish profile and refined tip. (There is a slight bump, experts say.)
While the nose is a perfect fit for Markle, keep in mind it's not exactly a one-size-fits all kind of thing. Celebrity emulation is as old as plastic surgery itself. Many youth and beauty seekers bring photos of their favorite celeb's body parts to their consult, hoping against hope that they can look more like their idol. (Remember Tobias Strebel, the 35-year-old who reportedly spent $100,000 to look like Justin Bieber?
It's not always possible to surgically alter an appearance to look like a celebrity (in fact it's rarely possible), so it's important to enter into it with realistic expectations. Otherwise you run the risk of setting yourself up for grave disappointment.  Instead of showing up at your consult with photos of the soon-to-be Royal or the celebrity you most admire, consider bringing old photos of yourself to show the doctor as well. From there, your facial plastic surgeon will conduct a thorough exam and help determine a plan that works for you and your nose.
While Markle's nose may not be right fit for you, there are a lot of things about her that are worthy of emulation.
Show some love
Markle and Prince Harry are often photographed holding hands and/or touching each other, a departure from the stiffness we typically associate with the Royals. We know that affection has some real health benefits and may help increase production of oxytocin, the so-called love hormone. Oxytocin reduces pain levels and overall stress in the body.
Give back
The 36-year-old, in addition to being an actress, was a Global Ambassador for the charity World Vision and travelled to Rwanda with World Vision Canada in 2016.
Put a ring on it
Jewlr.com's Meghan Markle replica ring, 'The Duchess,' has quickly become its best-selling engagement ring outselling other ring styles by 15%. Searches for three-stone rings on Jewlr.com have also risen by 220%.
Get a white wrap coat
Markle posed with her Prince in a cream-colored wrap coat, and the jacket sold-out almost instantly. The brand quickly renamed it the "Meghan" in her honor.
For more information, check out our nose surgery section of the site.